Located along the shores of beautiful Loughborough Lake just 15 minutes north of Kingston, Loughborough Heritage Orchard, although an established orchard dating back to the 1940's, was lovingly taken on as a restoration project by Marc and Stella Hiemstra in 2014.  The two large orchards, consisting of huge standard heritage apple trees, had been left unattended for over a decade and didn't have a single blossom or apple on them in 2014.  Through careful pruning and planning, this beautiful orchard has come back to life!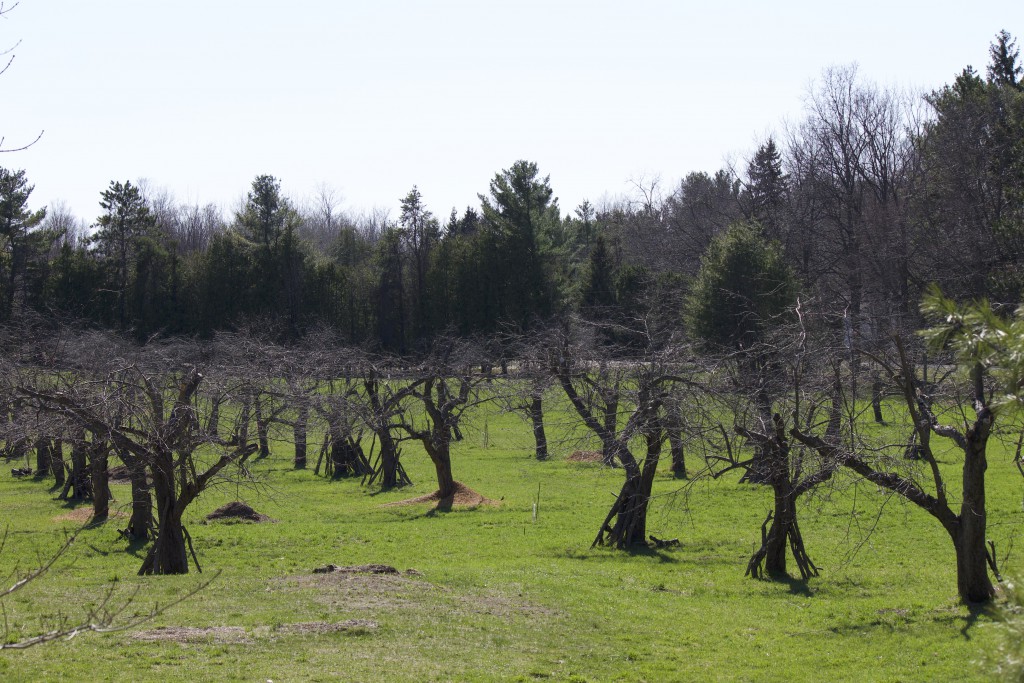 In addition to our heritage apple trees, we also have a small selection of the following fruit trees, also all grown organically:
Plums (La Crescent and Red Star)
Cherries (Montmorency and Pink Lady)
Pears (Bartlett and Southworth)
Our Farm
We are very happy to provide you with the best products at the best price and from such a beautifully maintained, natural setting.  You are welcome to wander about the property and we especially encourage you to stroll the large orchards and enjoy the majesty of our old heritage trees.
Fresh Eggs
Super healthy free range eggs from pasture raised laying hens. Rich in Omega 3's and graded large, xtra large and jumbo.
Meat Birds
Pasture raised meat birds living a happy chicken life guarantee the best meat for your table. Available twice a year – order yours now.
Summer Veggies
A limited supply of amazing fresh veggies, lettuces and herbs in season. Available June through October.
Our Sugar Bush
Maple Syrup and maple products done the old fashioned way – outside on wood burning evaporators. You can really taste the difference!
Sourdough Bread
Slow fermented, wild yeast Sourdough bread is the healthiest bread available. It takes 24 hours to make one loaf, but truly worth it.
All Things Apple!
The taste of our apples will surpass anything you have ever tasted before. Organically grown ensures the healthiest apple for you & your family.
Heritage
Heritage varieties are free from hybridization, GMO manipulations and "in lab" breeding.  They have a better flavour and are more suited to the localities where they are originally from.
All the fruits and vegetables that we grow on our property are intentionally either heritage varieties, or non GMO, non hybrid, open pollinated varieties.
Organic
Although we are not "certified organic" we maintain our entire property based on organic principles and management programs.
If we were to undergo certification all that would change would be that our prices would have to go up due to the annual costs of certification. The costs are very high and their are no government grants or farming incentives.  Therefore, we stand by our word on how our property is managed and that is as strong as any piece of paper.
Family Run
Family owned and operated, Loughborough Heritage Orchard serves the community of South Frontenac.
Our best farm hand is our grandson, who is happy to be paid in marshmallows!